My mother-in-law is in town! She arrived this morning just before lunch, and already Tony and I are feeling the happy effects of having some breathing space to do grocery shopping, pick up the bassinet for Boy Blob, and just have a coffee by ourselves while we tiredly try and plan a special 10th anniversary day date.
Yes, our 10th wedding anniversary is coming up one week before Christmas this year.
Arddun, meanwhile, is just loving having someone else to share pretend afternoon tea and cake with. And Nanna also came with an extra-impressive gift which I can't show off at present, because Arddun's snuggled under it in her room as I type. A whole Toy Story quilt! Yes. Did I tell you that my MIL is a mad quilter? (And by mad, I mean it in the best possible way. She quilts really well – a happy marriage of skill and hobby  – and many of our family milestones have been commemorated by her purpose-made quilts.)
My feet are also swollen and tired.
Why is it that the instinct for pregnant women to nest comes just when we are unable to do very much? I waddle after a meal now. But I also want to obsessively clean. Except kneeling on a tiled floor is hard work, and watching me try to get up is like watching a helpless baby seal struggle out of a tub of jello. Except my pelvis is clicky, and my back is sore. Except cankles appear by dinner time, large and swollen and hot, so much so that I cannot even stand at the sink to wash up after a meal anymore.
Also, this is very, VERY true: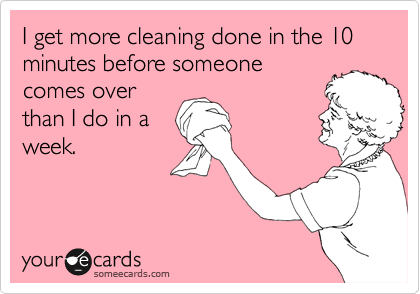 I had a cleaning list about 20 lines long yesterday, in anticipation of my steady slew of visitors in the coming weeks. It bemused Tony greatly when he found me squatting over the tracks of the laundry sliding doors compulsively scrubbing with my new Norwex microfibre cloths. (They are FABULOUS, by the way.)
"Isn't the whole point of family coming so that you get help around the house?" he finally quizzed. "Stop cleaning!"
Fair point. But I am a little house proud… and a lot pregnant. And right now, all I see anywhere is dust. And grout that needs to be scrubbed using some experiment with laundry detergent… and a perpetually molting living room rug that refuses to die… and a dirty oven… and a messy backyard… and… and…
And I can't do it all. But oh, watch me try!